La Marcha Express is a delivery & take out version of the critically acclaimed tapas bar in Berkeley. Food prepared at the same level of quality you're used to experiencing in the comfort of your home.
Sergio Emilio Monleón & Emily Sarlatte
Some Bay Area diners may recognize the duo behind this new venture. Chef / owners Sergio Emilio Monleón and Emily Sarlatte have gained quite a following for their incredible paellas, cooked at many high-end weddings and local food festivals with their catering company Ñora Cocina Española. At La Marcha, the pair will continue to share their innovative take on Spanish cuisine in a space that offers a warm, lively local neighborhood vibe.
Spanish cuisine is more than flavorful, it is brimming with energy and passion. La Marcha's menu of tapas and paellas, coupled with a community atmosphere, reflect the chefs' shared passion for Spanish cuisine, and their desire to transport the lively tapas bar culture they both experienced in Spain here to Berkeley. Fusing the best of Spanish culinary traditions with the bounty of fresh produce and ingredients the Bay Area has to offer has resulted in innovative dishes.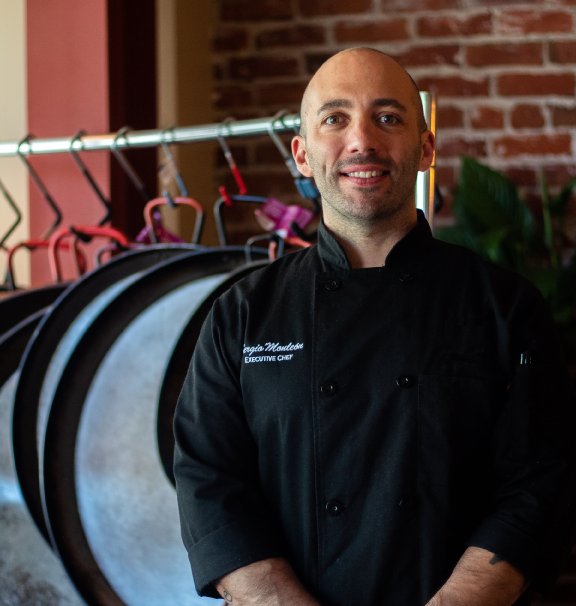 CHEF & OWNER SERGIO EMILIO MONLÉON
A California native, Chef Sergio Emilio Monleón, was raised in a Spanish household and always loved the culture and cuisine of his family's birthplace. After being formally trained in the Bay Area, eight unforgettable years in Madrid changed everything for Chef Monleón. Experiencing the beauty of home-cooked paella and the excitement of the traditional tapas stroll, he discovered his life's passion—creating community through food. Outside the kitchen, he can be found deejaying, watching Spanish fútbol or making paella at Lake Merritt.
CHEF & OWNER EMILY SARLATTE
A proud native of Oakland, Chef Emily Sarlatte's love for food began at a very young age. One of her earliest and fondest memories is shadowing her father in the kitchen, helping him make sausages. Memories of this culinary education and excellent home-cooked meals sparked Chef Sarlatte's desire to make the culinary arts her life's work, and pursue a culinary degree at Laney College. During a stint of time spent studying in Spain, her appreciation and admiration of Spanish cuisine grew to become her work's focus. When she's not whipping up perfect paellas and transcendent tapas creations, Chef Sarlatte enjoys spending time with her family, spoiling her miniature poodle, Pierre, and poring over a cookbook or food magazine with a glass of crisp white wine.